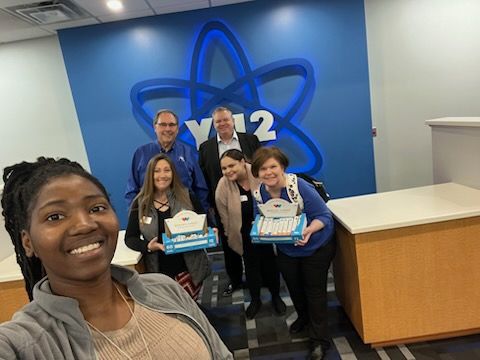 Annual Y-12 FCU Gives Foundation Inc. Candy Sales
Thank you to everyone who participated in our annual Candy Sale! This has been by far the BIGGEST year for sales yet!
Y-12 FCU Gives employees have raised over $10,000 to feed hungry children so far this year by selling chocolate to members of the Y-12 Federal Credit Union. President Mark Ziegler, Senior Vice President Lynn Boston, and Executive Director Gary Brewster visited branches in May and found that our branches are excited about helping fight hunger.
This year, the Middlebrook Branch won first place, and the Maryville Branch won second. Way to go, everyone!
Charity Golf Tournament 2023
We've officially announced the date of our annual 2023 Golf Tournament!
Join us for the Y-12 FCU Gives Foundation Inc. Golf Tournament, a charity event to raise grant funds for local organizations that live and breathe our mission to end childhood hunger in East Tennessee. Whether you're a novice or an aficionado, this event is an excellent opportunity to come together with members of your community, have fun, and support a great cause.
DATE: October 16, 2023
LOCATION: Fox Den Country Club
START TIME: 10:30 AM
Join our contact list for important Y-12 FCU Gives Foundation updates!